Sustainable Event Tips with Holy Carrot
Like many, our New Years Resolution for 2023 is to try to run our events as sustainably as possible and as such we're delighted to have appointed Holy Carrot as our vegan caterer at Kent House Knightsbridge. Holy Carrot think hard about realistic ways to implement plant-friendly processes, which is why we asked them to share their top tips for a low impact (but still impactful!) event.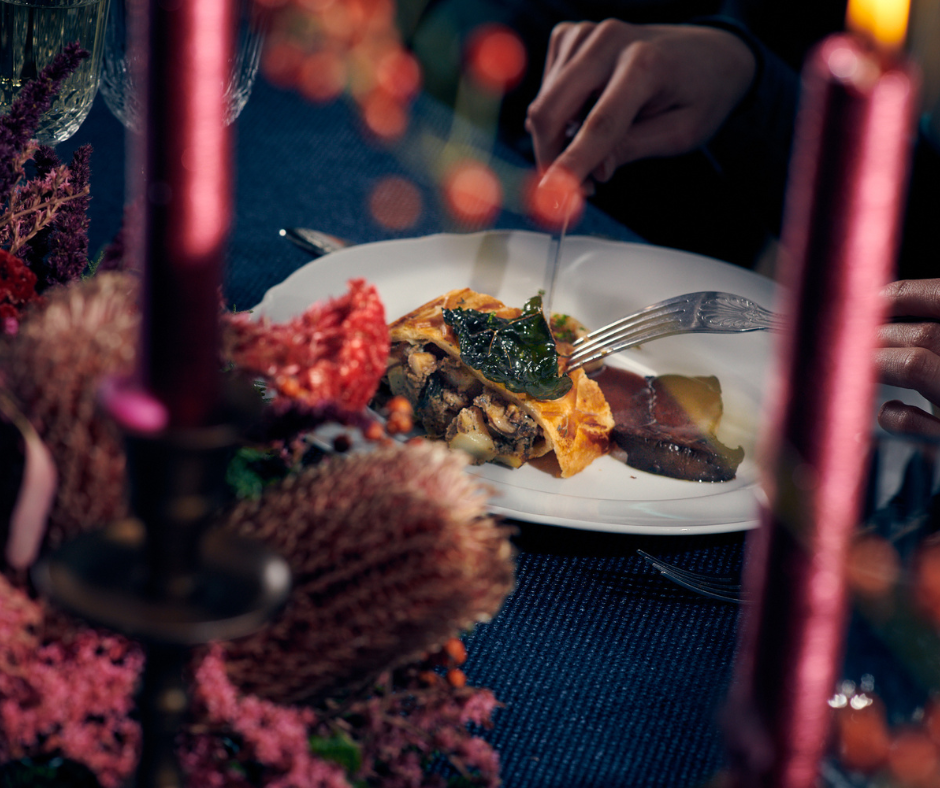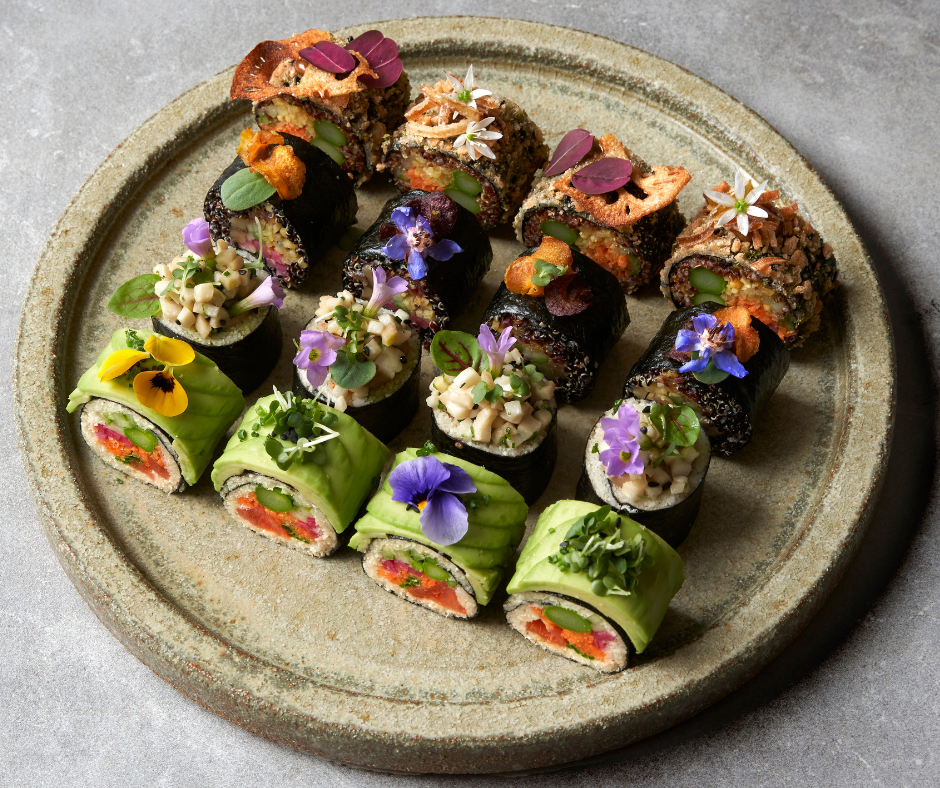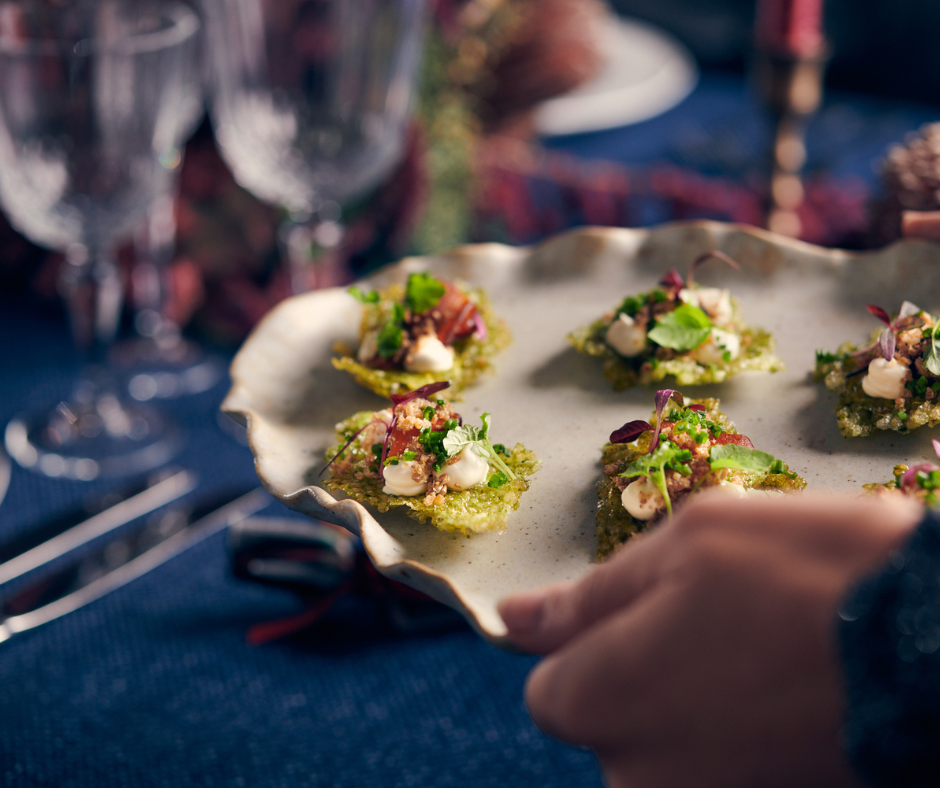 Plants, plants, plants!
Our number one tip – of course – is to go plant-based for your event. Even if the majority of your guests are regular meat and fish eaters, don't underestimate the power just one vegan menu can hold. Not only does it reduce the carbon impact of your party, but you might just inspire someone to eat plant-based more often. We aim to create vegan dishes that are also visually stunning, substantial, and nutritious – proving that plant-based doesn't have to be boring.
Rethink your stationary
Reducing paper waste is one of our biggest goals, and there are plenty of ways to cut back on the amount of paper you use. If you're having menus or favours, these can double as place cards. Or, better still, how about projecting your menu onto a wall or providing iPads or tablets for the tables?
We know it's not always possible to eliminate paper altogether, so it's worth looking into recycled options. Or, our personal favourite, seeded paper which your guests can then take away and plant. Sustainable doesn't have to be a compromise – it can actually create a great talking point for your guests.
Dried flowers
Another one of our "no-brainer" tips, is to swap out fresh flowers and foliage for dried. Just as beautiful, but reusable for months and perhaps even years to come! We recommend Emily at Design By Nature whose dramatic tablescapes have proven stunning backdrops to a number of our recent events and photoshoots. We can't wait to see what else she produces in 2023!
Teamwork!
We've been trying hard to implement climate-friendly policies, but there's only so much we can achieve on our own. It's worth asking suppliers what they are doing to work towards a more sustainable approach, as well as making small changes if appropriate. For example, we ask our equipment suppliers to deliver without plastic where possible, and have struck up a partnership with Refood who repurpose our food waste into biofuel, compost and fertiliser. Recycling, reusing and avoiding waste is our aim on events, and we're lucky to have so much support both onsite and back in our kitchens and offices.
Offsetting
It's important to be upfront and honest about sustainability, in order to avoid the "greenwashing" phenomenon. We know that our deliveries, travel and even cooking on events has an impact on the planet, but luckily there are ways to offset our services. We're thrilled to be working with Ecologi, who take the calculations off our hands and counteract the events we produce, including by planting a minimum of 100 trees per event!
Call to action
Lastly, when hosting an event you have a unique opportunity to communicate with a "captive audience" of your invited guests. Why not encourage them to share transport home, reuse their party favours or donate to a chosen environmental charity in lieu of giving gifts? It can be as simple as a short sentence on your invites or menus – and every little helps.
Exclusive hire of Kent House Knightsbridge allows each event to unfold over two floors with four large and spacious rooms that be configure for different purposes.
Whilst the venue holds an enormous amount of history, it also provides a neutral and elegant backdrop; essential for staging press days, product launches and conferences.
Kent House Knightsbridge is ideal for 50 to 300 guests.  If you'd like to know more or arrange a showround do get in touch with Gary who will be happy to help.
TEL : 020 7610 2808 – EMAIL : info@evolve-events.com